Paisley is a vibrant community that encourages individuality while inspiring unity. Paisley takes the conventional greenfields residential development in a bold direction providing, a unique approach that offers seamless, inclusive and integrated blend of housing options to promote greater interaction and connectivity among neighbors. Unique architectural guidelines ensure homes are never cookie cutter in a neighbourhood where bold public art exists amidst green spaces and homes.
Community Features
Where streets are designed to minimize internal traffic and create a small, intimate community.
Four colorful sculptures by Dan Corson celebrate Paisleys diversity and creativity.
Traditional design joins a modern aesthetic to create upbeat, innovative housing.
Community Map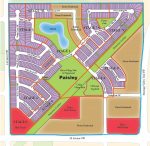 Visit Us
Visit our show home parade where all your questions about the community and new home options can be answered.
1003 Paisley Drive SW
Get Directions
Have Questions?
Have questions? Email us with your questions and we'll be sure to get back to you.
Email Us