Meet Hairy Gary, Our Four-Legged Resident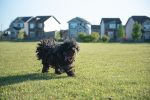 As you walk down the eclectic streets of Pailsey, Hairy Gary might just give you a friendly welcome to his neighbourhood. With Edmonton's newest off-leash dog park within the community, it's a dog's favourite place to be!
Nestled in the community of Paisley, you'll find the south Edmonton off-leash dog park! Only the second of its kind in the City.
Double-gated entrance and exit and a designated small-dog area both provide safety and peace-of-mind for you and your furry friends. Here are some of the agility features you'll find inside:
adjustable tire jump
hound hurdless
teeter totter
dog walk ramp
flexible weave poles
In addition to the 0.9-hectare of wide open space for chasing sticks and balls, there's agility features your pet is sure to enjoy.
Come check out the Paisley off-leash dog park today!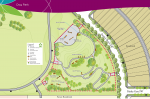 Fetch Directions Here
Don't lose the pack! Get direction to Paisley's off leash dog park here.
Get Directions