Paisley is unique compared to most other south-west Edmonton communities. The roads are a little narrower, prompting vehicles to slow down. There's no single set style of home, so every block has a new surprise. And dogs may very well outnumber children in this community.
Though we haven't conducted a dog census (not yet at least), you're almost sure to see two or three dogs for every one person you see. This may be because Paisley's top attraction is its dog park.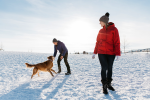 Every dog has its day at Paisley
There are two separate play area at the Paisley dog park. The first larger area is meant for larger breeds of dogs and features hills, obstacle course, and a double fence system within the gated area. The second smaller park is meant for smaller dogs who may be a little skittish around larger dogs – and it features its own (but smaller) obstacle course that the tiniest chihuahua can navigate.
On any given afternoon, you can find a dozen or more dogs running and playing throughout the dedicated space. You'll also meet many community residents who won't hesitate to talk about their dogs. Even more interesting, you'll meet just as many people from outside the community.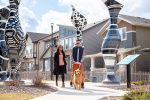 Building a Community for all
Gillian Luff calls Lake Summerside home but will frequently trek to Paisley to let her 11-pound chihuahua Atticus run around and make friends. "I really wish there was something like this in my community," she says, explaining further that, while the trails throughout her community are great for walks, they don't allow Atticus the space to explore and meet other dogs.
"He's always stopping to sniff just about everything and has to stop to meet every other dog we come across," Gillian says. "He likes running free a lot more than he likes being leashed for walks. So, I bring him to the small dog park and let him do his thing. He loves it. There's almost always another small dog for him to play with, and I've met some awesome people in this community."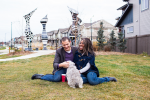 More than a place for Fido
For most folks living in the community of Paisley, they'll point to the dog park as the main hub for neighbours to gather. Right next to the dog park is an open field and a playground with a winding trail cutting from one end to the other. There's almost always kids at the playground, people walking the trails, and folks taking their dogs for one last quick walk before heading home after some play.
The dog park has grown from a place to let the puppies play to an informal core for neighbours to gather and connect. This shows how strong of a community connection there is in Paisley. The residents found their place to come together and be a tight-knit community.