Imagine being on the jumbotron as you skate out with an Edmonton champion hockey team. That's what Dylan got to do. And he won't be the only kid taking the ice with our Western Hockey League (WHL) hometown heroes.
He got to join the Edmonton Oil Kings starting lineup for the September 27, 2022, game and was given the immense responsibility of bringing the flag to centre ice for the national anthem. It's an experience Dylan is likely to never forget.
"The ice was really slippery," Dylan says. "Standing with the players and being on the big screen was so cool. I've never been on the big screen before!"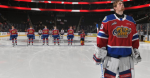 More than a chance to be on the ice
Dylan was one of the first kids selected to participate in Brookfield Residential's annual partnership with the Oil Kings to bring kids on the ice and be a part of the opening ceremonies. Along with the opportunity to take the ice, the family received four tickets to that night's game – and in some of the most primo seats you can find at Rogers Place.
The partnership between Brookfield Residential and the Edmonton Oil Kings has been going strong for the last five years. Close to 100 kids have taken the ice at Rogers Place through this partnership, and this year is already seeing tons of kids looking for their shot to join the WHL powerhouse.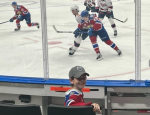 Take lots of pictures!
For Dylan, his time on the ice with the Oil Kings is inspiring him as he enters a new level of hockey.
"I'm really excited to start U11 this year with full ice and penalties," Dylan says. "I will try my best and listen to my coaches. I can't wait to practice all winter on my home rink too."
What's Dylan's top advice for the next kids taking the ice with the Oil Kings? "Have fun! Enjoy it. Take lots of pictures. I'm happy to have so many pictures to last a lifetime!"
This partnership is a way to give back to the folks who call our communities home – and to everyone in the greater Edmonton area. Providing an unforgettable opportunity for kids to engage in their passions for hockey is just one way we can foster a greater community spirit and truly continue building the best places to call home.